Homeowners opting to sell their properties off-market achieve lower selling prices amid housing market recovery.
This was according to a new PropTrack report that analysed sale prices for homes sold off-market in 2022 compared to those listed on realestate.com.au.
And with home prices recovering, the report said selling properties off-market put homeowners at risk of selling 4.3% less on average than those listed – that's a loss of tens of thousands of dollars.
In Greater Sydney, selling off-market may incur an average loss of more than $60,000, and close to $30,000 in Greater Melbourne.
On average, units sold off-market fetch 1.2% less of the price, but sellers in some cities made an even bigger loss. In Greater Sydney, units sold for 2.8% less.
Paul Ryan (pictured above) PropTrack senior economist and report author, said "deciding to sell off-market may come at a significant cost to sellers."
"While some sellers might try to save money by not advertising online, this analysis shows the potential earnings lost in the final sale price far outweighs the initial cost of advertising," Ryan said.
"These results are based on sales in 2022, when home price growth slowed in many regions, reflecting the potential costs of selling off-market in current conditions, where strong buyer demand and limited supply is pushing prices up in most markets."
Sellers in New South Wales, Queensland, and Western Australia took the biggest hit to returns when selling off-market, with those in NSW missing out on more than 4% on average, compared to losses of 3% or more in WA and Queensland.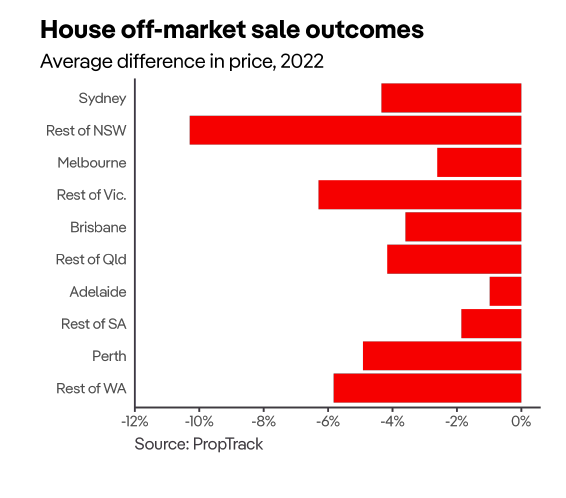 Matthew Everingham, director of Richard Matthews Real Estate in Sydney, said advertising a property for sale online comes with huge benefits.
"In this current property market fuelled by strong demand and a limited number of properties available for sale, a strong digital marketing campaign can help to secure the optimum outcome for vendors," Everingham said.
This is particularly beneficial, he said, at auctions, where competition helps owners see substantially higher results.
"While some owners like the idea of the potential savings on marketing expenditure, there is no doubt that a strong online marketing campaign helps drive heated competition and leads to the maximum price and outcome for our owners," Everingham said.
Simone Chin, Atria Real Estate director and auctioneer, in Melbourne's Brighton, said selling a property off-market is "securing a result for a vendor's property that may be leaving a lot on the table."
"Investing in a proper marketing campaign and listing online expands the pool of potential buyers and encourages competition, ensuring the best possible outcome for vendors," Chin said.
For more information and to view the full report, visit the realestate.com.au website.
Use the comment section below to tell us how you felt about this.